KVINNELIGE REGISSØRER
Som nevnt på hovedsiden, har jeg avgrenset denne hjemmesiden til bare å ta for meg filmhistorien ut i fra regissørenes arbeid. Men Under mitt arbeid med denne hjemmesiden har jeg foreløpig kommet over forbausende lite informasjon om de kvinnelige regissøerer i stumfilmperioden. Jeg har ikke funnet noe litteratur om emnet eller årsaken til at kvinnene som regissører nærmest er usynlig i filmperioden 1896 - 1932 og jeg har derfor valgt å samle sammen opplysninger over de få kvinnelige regisørene jeg kommer over på en egen side. Disse regissørene blir også omtalt på de sidene tilhører, på lik linje med de mannlige regissørene, men jeg har alikevel valgt denne siden da jeg ser det som viktig å "løfte" frem de kvinnelige regissørene. Det skulle ha vært artig om noen andre viderefører dette arbeid med å forske på disse regissørenes arbeid og hvordan de påvirket filmens utvikling. Arbeidet de på en annen måte, hadde de en annen vinkling i sitt arbeid, hvordan ble deres arbeid betraketet i sin samtid, osv.
De fleste opplysningene er foreløpig hentet fra "IMDb" og jeg håper jeg senere skal finne mer informasjon om disse regissørene.
SKANDINAVIA
EBBA LINDKVIST
I Skandianvia har jeg bare kommet over fire kvinnelige regissører. Det er Ebba Lindkvist (??-??) som regisserte sin eneste film "Värmländingarna" (Sorglustigt skådespel med dans i 2 akter och 14 avd.) (1910) for produksjonsselskapet "Frans Lundberg", Malmö. Filmen hadde premiere på "Stora Biografteatern" i Malmö 27.10.1910. Denne filmen var samme type "sorglustiga tal-, sång- och dansspel" film som "Svenska Bio" i Kristianstad allerede hadde spilt inn i 1909. Ebba Lindkvist hadde både regien og spilte rollen som "Annika, Jans hustru". Filmen bygger på Fredrik August Dahlgrens (20.09.1816-16.02.1895) skuespill "Wermlenningarne" (1845). I Finland ble det fremført en spesiell versjon av filmen med innslag av synkronisert sang og musik fra grammofonskiver.
ANNA HOFFMAN-UDDGREN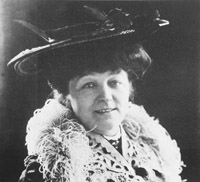 Den andre var Anna Hoffman-Uddgren (23.02.1868 - 01.06.1947), født Anna Maria Hammarström var forfatter, journalist, skuespiller, varietéartist, teaterledare og regnes som Sveriges første kvinnelige regissisør, en kort periode som varte i perioden 1911-1912. Hun var gift med avismannen Karl Gustaf Uddgren (21.02.1865-26.07.1927). Han skrev filmmanuset til følgende av hennes filmer: "Fadren" (Sorgspel i 3 akter) (1912), skrev sammen med Anna Hoffman-Uddgren"Fröken Julie" (1911) og "Stockholmsfrestelser eller Ett Norrlands-herrskaps äventyr i den sköna synderskans stad" (1911) og stod for scenarioen til "Systrarna" (1912).
Hun debuterte som regissør og skuespiller i "Stockholmsfrestelser eller Ett Norrlands-herrskaps äventyr i den sköna synderskans stad" (1911) hvor hun hadde rollen som "fru Westergård, en tant till Julia", hun regisserte og skrev Strindbergs "Fröken Julie" (1911) og regisserte "Fadren" (Sorgspel i 3 akter) (1912) som hun regisserte, regisserte "Stockholmsdamernas älskling" (1911), regisserte og skrev "Blott en dröm" (Stockholmsskådespel i 53 tablåer) (1911), regisserte og spilte rollen som "Mrs. Westergård" i "Sköna synderskans stad" (1911) , og hadde rollen som "frelsesarmesoldat" i "Systrarna" (1912) som var skrevet av Elin Wägner (16.05.1882-07.01.1949).
Anna Hoffman-Uddgren skrev manuskript til følgende filmer: "Hon fick platsen eller Exkonung Manuel i Stockholm" (1911) hvor hun også hadde rollen som som en plassøkende kvinnelig journalist, "Systrarna" (1912), "Ungdom" (1927), "Efterlyst" (En modern Stockholms-historia) (1939) og "Åsa-Hanna" (1946) (ikke kreditert). Innspillingsvirksomheten opphørte i 1912 da Nils Petter Nilsson døde i september 1912. I 1921 spilte Anna Hoffman-Uddgren i filmene "De landsflyktige" (1921) hvor hun hadde rollen som festkledd gjest på soarén og "Vallfarten till Kevlaar" (1921) hvor hun spilte rollen som "linedanserens kone".
PAULINE BRUNIUS
Pauline Brunius (Emma Maria Pauline Lindstedt) (10.021881-30.03.1954) begynte sin kunstneriske karriere som ballettelev ved "Operaen" i 1891, før hun gikk over til teaterscenen og debuterte på "Olympiateatern! i 1902.
Född . Balettelev vid Operan 1891. Övergick till talscenen och debuterade på Olympiateatern 1902. På Oscarsteatern 1926-32, bl.a. som medlem av direktionen. Dramatenchef 1938-48. Gift 1909-35 med John W. Brunius. Hon gjorde sin skådespelardebut som Paola Lindstedt och var en klassiskt skolad aktris, utbildad vid Operans balettskola och genom privatundervisning i dramatisk framställning för fru Dorch. Hennes debut ägde rum på Olympiateatern 1902 i en bärande roll då den ordinarie innehavaren insjuknat, gjorde omedelbar succé och förblev vid denna teater till 1903. Därefter arbetade hon vid Östermalmsteatern 1903-04, Dramaten 1904-1906 och vid Svenska Teatern i två omgångar 1906-1911 och 1912-1925. 1926 övertog hon tillsammans med sin man John W. Brunius och Gösta Ekman Oscars-teatern och drev denna till 1932. Hon kom senare till Dramaten och var där fram till 1948, som chef för denna från 1938 .I denna befattning blev hon omstridd, bl.a. under krigsåren när hon fick administrera den försiktighetspolitik angående pjäsval som dikterades av statsmakterna. Hon var även verksam som regissör och regisserade bl.a. flera kortfilmer under 1920-talet. Pauline Brunius var en aktris i den stora stilen, vilken kan förefalla något antikverad i dagens ögon men den kunde vara kongenial med sin roll som fallet är med t.ex. Karl-Fredrik regerar (1934), där hon gestaltade den bördsförnäma grevinnan Gyllencreutz, som in i det sista inte vill böja sig för den nya tidens krav. Hennes fåtaliga filmroller faller överhuvud taget till större delen inom kategorin kvinnor av hög börd som hennes filmdebut i Thora van Deken (1920), som Aurora von Königsmarck i sin mans Karl XII (1925) eller överstinnan Ekenstedt i Charlotte Löwensköld (1930). Hon såg sin lite manierade stil till trots teatern som sanning och naturlighet som borde vara befriad från effektsökeri och sökte sina ideal hos äldre skådespelare som Johane Duval och August Palme. 1925 erhöll hon den kungliga medaljen Litteris et artibus, 1942 Illis quroum (8:e storleken, 1948 i 12:e storleken). Hon tilldelades den danska medaljen Ingenio et Arte, den norska Kongens Fortjenstmedalj samt den ungerska Röda Korsorden. Hon skrev böckerna Osminkat (1931) och Öst och väst (1934). Hon var gift med regissören John W. Brunius och mor till skådespelerskan Anne-Marie Brunius och skådespelaren och regissören Palle Brunius samt farmor till regissören Niklas Brunius. (2004)

Regi: De läckra skaldjuren, 1920
Ombytta roller, 1920
Trollsländan (En liten sommarfilm), 1920
Lev livet leende, 1921
Ryggskott, 1921
Herr Vinners stenåldersdröm, 1924
Falska Greta, 1934


KARIN SWANSTRÖM
Karin Swanström (Karin Sofia Svanström) (13.06.1873-05.07.1942) i S:t Olai församling, Norrköping, död i Stockholm. 1890 började hon vid Dramatens elevskola och redan under elevskoletiden uppmärksammades hennes skådespelarbegåvning när hon 1891 uppträdde i elevföreställningarna Blond och brunett och Bröllopet på Ulfåsa . 1892 engagerades hon av Dramaten och var där ytterligare fem år innan hon via ett år hos Hjalmar Selander 1897-1898 flyttade över till Svenska Teatern i Helsingfors 1899, där hon kom att ytterligare utveckla sin scenkonst. Efter fem år flyttade hon tillbaka till Sverige och startade 1904 ett eget turnésällskap som skulle förbli verksamt in på 1920-talet. Detta blev ett av de mer kända med en repertoar som växlade mellan klassisk dramatik och rena farser. Både Karl Gerhard och Valdemar Dalquist, som för en tid tillhörde detta sällskap, har på var sitt håll givit livfulla skildringar hur det gick till på dessa turnéer. Karl Gerhard ger en bild av henne i ett par artiklar i Vecko-Journalen (nr 30 och 31, 1959) som en verklig primadonna men även som en duktig teatermänniska och regissör. På 1920-talet spelade hon på olika scener som Blanche och senare 1926-1931 på Oscars-teatern. Hon var även för en tid 1924 produktionschef för det kortlivade Bonnierfilm och då regisserade hon även några spelfilmer. 1933 blev hon konstnärlig rådgivare, i praktiken produktionsledare, vid Svensk Filmindustri, en post hon upprätthåll till kort före sin bortgång. Som skådespelare var hon mångsidig med såväl tragiska roller som rent burleskt komiska på repertoaren. Under sin tid på SF gjorde hon ofta biroller som en ofta komisk och vimsig överklasstant som i Fasters millioner (1934) eller Bröllopsresan (1936), men även rena karaktärsporträtt av sådana högreståndsfiigurer som På Solsidan (1936) och Äventyret (1936), samt även kvinnor av lägre klass som hushållerskan Boman i Swedenhielms (1935) och manufakturhandlare i Ryska snuvan (1937). Som produktionsledare blev hon i hög grad ansvarig för den inriktning produktionen fick och då spelade erfarenheterna från turnérandet ofta in vid val av ämnen, som då ofta blev gamla slagnummer från scenen. Hon hade också sin särskilda betydelse som talangscout och bidrog till att unga talanger som t.ex. Ingrid Bergman och Alf Kjellin kom in vid filmen. Den bild som Birgit Tengroth ger i sina memoarer Jag vill ha tillbaka mitt liv är dock ganska negativ och ger närmast intrycket av Karin Swanström som en macchiavellisk maktfigur. (2004)

Regi: Boman på utställningen, 1923
Flygande holländaren, 1925
Kalle Utter, 1925
Flickan i frack (En sommarlätt filmhistoria), 1926


ITALIENSKE REGISSØRER
ELVIRA NOTARI
Elvira Notari (10.02.1875-17.12.1946)

DAISY SYLVAN
Daisy Sylvan (??.??-??.??)


FRANSKE REGISSØRER
ALICE GUY BLANCHÉ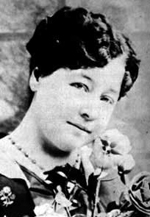 Alice Guy-Blaché (01.07.1873-24.03.1968) var en pioner filmskaper som var den første kvinnelige direktør i filmselskaper industri og anses å være en av de første direktører av en fiction-film.
Alice Guy Blaché (1873-1968), verdens første kvinnelige filmskaper, var ett av nøkkeltallene i utvikling av narrativ film. From 1896 to 1920 she directed 400 films (including over 100 sychronized sound films), produced hundreds more, and was the first - and so far the only - woman to own and run her own studio plant (The Solax Studio in Fort Lee, NJ, 1910-1914). Fra 1896 - 1920 har hun ledet 400 filmer (inkludert over 100 sychronized lyd filmer), produsert hundrevis mer, og var den første - og hittil eneste - kvinne å eie og kjøre sitt eget studio anlegg (Solax Studio i Fort Lee, NJ , 1910-1914).
Alice Guy ble født til fransk foreldre som var arbeider i Chile, der hennes far eide en kjede av bokhandler. Her mother returned home to give birth to Alice in Paris . Hennes mor returnerte hjem for å gi fødsel til Alice i Paris. For the first few years of her life she was left in the care of her grandmother in Switzerland until her mother came to take her to Chile where she lived with her family for about two years. For første årene av sitt liv, hun var igjen i omsorgen for hennes bestemor i Sveits før hennes mor kom til å ta henne til Chile der hun bodde sammen med sin familie til om to år. She was then sent to study at a boarding school in France and was a young girl entering her teens when her parents returned from Chile. Hun ble deretter sendt for å studere ved et bord skole i Frankrike og ble en ung jente inn i hennes tenåringer når hennes foreldre returnerte fra Chile. However, shortly thereafter, her father and brother both died. Men kort tid etterpå, hennes far og bror begge døde.
I 1894 Alice Guy var ansatt ved Léon Gaumont å arbeide for en fortsatt-fotografering selskap som sekretær. The company soon went out of business but Gaumont bought the defunct operations inventory and began his own company that soon became a major force in the fledgling motion picture industry in France. Selskapet snart gikk ut av business, men Gaumont kjøpte defunct operasjoner inventar og startet sitt eget selskap som snart ble en stor kraft i fledgling filmselskaper industrien i Frankrike. Alice Guy decided to join the new Gaumont Film Company , a decision that led to a pioneering career in filmmaking spanning more than twenty-five years and involving her directing, producing, writing and/or overseeing more than 700 films. [1] Alice Guy besluttet å bli med i den nye Gaumont Film Company, en beslutning som har ført til et banebrytende karriere innen filmproduksjon omfatter mer enn tjuefem år, og involverer henne regi, produksjon, skriftlig og / eller kontrollere mer enn 700 filmer. [1]
From 1897 to 1906, Alice Guy was Gaumont's head of production and is generally considered to be the first filmmaker to systematically develop narrative filmmaking. Fra 1897 - 1906, Alice Guy var Gaumont er leder av produksjon og er generelt ansett for å være den første filmskaper å systematisk utvikle narrativ filmproduksjon. In 1906, she made her first full length feature film, titled The Life of Christ , a big budget production for the time, which included 300 extras. I 1906 har hun laget sin første full lengde spillefilm, med tittelen The Life of Christ, et stort budsjett produksjon for tiden, som omfattet 300 tilleggsfunksjoner. That same year she also made the film La Fée Printemps ( The Spring Fairy ), one of the first movies ever to be shot in color. Det samme året hun også laget filmen La Fée Printemps (våren Fairy), en av de første filmene noensinne å bli skutt i farge. As well, she pioneered the use of recordings in conjunction with the images on screen in Gaumont's "Chronophone" system, which used a vertical-cut disc synchronized to the film. Som vel, hun var en pioner innenfor bruk av opptak i forbindelse med bildene på skjermen i Gaumont "Chronophone"-systemet, som brukes en vertikal-cut platen synkronisert til filmen. An innovator, she employed special effects, using double exposure masking techniques and even running a film backwards. Et nyskapende, hun ansatt spesialeffekter, bruker dobbelt eksponering maskeringsmiddel teknikker og selv kjører en film baklengs.
I 1907 Alice Guy gift Herbert Blaché som ble snart utnevnt produksjonen manager for Gaumont virksomhet i USA. After working with her husband for Gaumont in the USA, the two struck out on their own in 1910, partnering with George A. Magie in the formation of The Solax Company , the largest pre-Hollywood studio in America. [2] With production facilities for their new company in Flushing, New York , her husband served as production manager as well as cinematographer and Alice Guy-Blaché worked as the artistic director, directing many of its releases. Etter å jobbe med ektemannen til Gaumont i USA, de to slo ut på egen hånd i 1910, sammen med George A. Magie i dannelsen av Solax Company, den største pre-Hollywood studio i Amerika. [2] Med produksjonsanlegg for sitt nye selskap i Flushing, New York, hennes ektemann servert produksjon som manager så vel som cinematographer og Alice Guy-Blaché jobbet som kunstnerisk leder, regi mange av sine utgivelser. Within two years they had become so successful that they were able to invest more than $100,000 into new and technologically advanced production facilities in Fort Lee, New Jersey , a place that was quickly becoming the film capital of America and home to many major film studios . Innen to år hadde de blitt så vellykket at de var i stand til å investere mer enn kr 100000 i nye og teknologisk avanserte produksjonsanlegg i Fort Lee, New Jersey, et sted som var raskt i ferd med å bli filmen hovedstaden i Amerika og hjemmet til mange store film studioer. It was commented on in publications of the era that Guy-Blaché placed a large sign in her studio reading "ACT NATURALLY". [3] Det ble kommentert i publikasjoner av den tiden som Guy-Blaché plassert et stort logge på hennes studio lesing "ACT naturlig". [
Alice Guy og hennes ektemann skilt flere år senere, og med nedgang på østkysten film industrien i favør av de mer gjestfri og kostnadseffektiv klima i Hollywood, filmen partnerskap også avsluttet.
Following her separation, and after Solax ceased production, Alice Guy-Blaché went to work for William Randolph Hearst 's International Film Service. Etter hennes separasjon, og etter Solax avsluttet produksjonen, Alice Guy-Blaché gikk til arbeid for William Randolph Hearst s Internasjonale Filmfestival. She returned to France in 1922 and although she never made another film, for the next 30 years she gave lectures on film and wrote novels from film scripts. Hun returnerte til Frankrike i 1922 og selv om hun aldri har gjort en annen film, for de neste 30 årene hun holdt foredrag på film og skrev romaner fra filmen skript. All but forgotten for decades, in 1953 the government of France awarded her the Legion of Honor . Alle men glemt i flere tiår, i 1953 regjeringen i Frankrike tildelt henne Legion of Honor.
Alice Guy-Blaché never remarried and in 1964 she returned to the United States to stay with one of her daughters. Alice Guy-Blaché aldri remarried og i 1964 returnerte hun til USA for å bo hos en av hennes døtre. She died in a nursing home in Mahwah, New Jersey . Hun døde i en sykepleier hjem i Mahwah, New Jersey.
For videre lesning anbefaler jeg Alison McMahan "Alice Guy Blache: Lost Visionary of the Cinema" New York og London: kontinuum 2003. 361pp, illus. 361pp, illus. Hardcover: $39.95. Stivt: $ 39,95. Paperback: $21.95 Paperback: $ 21,95. Denne nye boken forteller om hennes liv historien og gir en helhetlig historie av denne filmpioneren. Ved siden av at boken tar for seg hennes karriere i forhold til utviklingen innen filmindustrien, tar også forfatteren for seg hennes store filmproduksjon og gir en omfattende analyse av 100 av hennes filmer.
Fée aux choux, La (1896)
Arroseur arrosé, L' (1897)
Au réfectoire (1897)
Aveugle, L' (1897)
Baignade dans le torrent (1897)
Ballet libella (1897)
Cambrioleurs, Les (1897)
Chez le magnétiseur (1897)
Classe, En (1897)
Cocher de fiacre endormi, Le (1897)
Coucher d'Yvette (1897)
Danse fleur de lotus (1897)
Idylle (1897)
Idylle interrompue (1897)
Leçon de danse (1897)
Pêcheur dans le torrent, Le (1897)
Planton du colonel, Le (1897)
Une nuit agitée (1897)
Cène, La (1898)
Chemin de croix, Le (1898)
Crèche à Bethléem, La (1898)
Déménagement à la cloche de bois (1898)
Entrée à Jérusalem, L' (1898)
Farces de Jocko, Les (1898)
Flagellation, La (1898)
Fuite en Égypte, La (1898)
Jardin des oliviers, Le (1898)
Jésus devant Pilate (1898)
Je vous y prrrrends! (1898)
Leçons de boxe (1898)
Scène d'escamotage (1898)
Utilité des rayons x, L' (1898)
Au cabaret (1899)
Aveugle, L' (1899)
Bonne absinthe, La (1899)
Chiffonnier, Le (1899)
Courte échelle (1899)
Crucifiement, Le (1899)
Dangers de l'alcoolisme, Les (1899)
Déjeuner des enfants, Le (1899)
Descente de croix, La (1899)
Erreur judiciaire (1899)
Mauvaise soupe, La (1899)
Mésaventure d'un charbonnier (1899)
Monnaie de lapin (1899)
Résurrection, La (1899)
Tondeur de chiens, Le (1899)
Tonnelier, Le (1899)
Transformations (1899)
Un lunch (1899)
Angélus, L' (1900)
Arléquine, L' (1900)
Arrivée d'Arléquin (1900)
Arrivée de Pierette et Pierrot (1900)
Avenue de l'opéra (1900)
Badinage (1900)
Bataille de boules de neige (1900)
Bébé, Le (1900)
Chapellerie et charcuterie mécanique (1900)
Chez le Maréchal-Ferrant (1900)
Chez le photographe (1900)
Chirurgie fin de siècle (1900)
Concierge, La (1900)
Coucher d'une Parisienne (1900)
Dance de l'ivresse (1900)
Danse des saisons, Le (1900)
Danse du papillon (1900)
Danse du pas des foulards par des almées (1900)
Danse du ventre, La (1900)
Danse du voile (1900)
Danse serpentine (1900)
Dans les coulisses (1900)
Déclaration d'amour (1900)
Départ d'Arlequin et de Pierrette, Le (1900)
Écossaise, L' (1900)
Fée aux choux, ou la naissance des enfants, La (1900)
Gavotte directoire (1900)
Guillaume Tell (1900)
Habanera, L' (1900)
Lapin, Le (1900)
Leçon de danse (1900)
Little Tich et ses 'Big Boots' (1900) (as Alice Guy Blaché)
Marchand de coco, Le (1900)
Matelot, Le (1900)
Mort d'Adonis (1900)
Pas de grâce (1900)
Pas des éventails (1900)
Pas du poignard (1900)
Pas Japonais (1900)
Paysanne, La (1900)
Petite magicienne, La (1900)
Polichinelle, Le (1900)
Poupée noire, La (1900)
Reine des jouets, La (1900)
Retour des champs (1900)
Sang d'Adonis donnant naissance à la rose rouge, Le (1900)
Saut humidifié de M. Plick (1900)
Source, La (1900)
Suite de la danse (1900)
Tarentelle, La (1900)
Une rage de dents (1900)
Valse directoire (1900)
Valse lente (1900)
Charmant froufrou (1901)
Danses basques (1901)
Frivolité (1901)
Hussards et grisettes (1901)
Lavatory moderne (1901)
Lecture quotidienne (1901)
Pas de colombine (1901)
Scène d'amour (1901)
Scène d'ivresse (1901)
Tel est pris qui croyait prendre (1901)
Vagues, Les (1901)
Bonsoir m'sieurs dames (1902)
Chiens savants, Les (1902)
Clowns, Les (1902)
Cour des miracles, La (1902)
Danse excentrique (1902)
Danse fantaisiste (1902)
Danse mauresque (1902)
Dent recalcitrante, La (1902)
Équilibriste, L' (1902)
Faction, En (1902)
Farces de cuisinière (1902)
Fiole enchantée, La (1902)
Fruits de saison (1902)
Gavotte, La (1902)
Gigue, La (1902)
Intervention malencontreuse (1902)
Lion savant, Le (1902)
Malabares, acrobats, Les (1902)
Marchand de ballons, Le (1902)
Pommier, Le (1902)
Pour secouer la salade (1902)
Première gamelle, La (1902)
Quadrille réaliste (1902)
Sage-femme de première classe (1902)
Trompé mais content (1902)
Une scène en cabinet particulier vue à travers le trou de la serrure (1902)
... aka A Peculiar Cabinet (International: English title)
... aka Un cabinet particulier (France: short title)
Apaches pas veinards, Les (1903)
Aventures d'un voyageur trop pressé, Les (1903)
Braconniers, Les (1903)
Cake-walk de la pendule (1903)
Chasse au cambrioleur, La (1903)
Comment monsieur prend son bain (1903)
Comme on fait son lit on se couche (1903)
Compagnons de voyage encombrants (1903)
Enlèvement en automobile et mariage précipité (1903)
Faust et Méphistophélès (1903)
Fiancé ensorcelé, Le (1903)
Illusionniste renversant (1903)
Jocko musicien (1903)
Liqueur du couvent, Le (1903)
Lutteurs américains (1903)
Main du professeur Hamilton ou le roi des dollars, La (1903)
Modelage express (1903)
Mouche, La (1903)
Ne bougeons plus (1903)
Nos bons étudiants (1903)
Potage indigeste (1903)
Poule fantaisiste, La (1903)
Répétition dans un cirque (1903)
Secours aux naufragés (1903)
Service précipité (1903)
Surprises de l'affichage, Les (1903)
Valise enchantée, La (1903)
Voleur sacrilège, Le (1903)
Après la fête (1904)
Assassinat du courrier de Lyon, L' (1904)
Comment on disperse les foules (1904)
Crime de la Rue du Temple, Le (1904)
Deux rivaux, Les (1904)
Enfants du miracle, Les (1904)
Gavotte de la reine, La (1904)
Leçon de pipeau, La (1904)
Oiseau envolé, L' (1904)
Paris la nuit (1904)
Pierrot assassin (1904)
Pompon malencontreux, Le (1904)
Esmeralda (1905)
... aka Esméralda, La (France)
Réhabilitation (1905)
Matelas épileptique, Le (1906)
... aka Matelas alcoolique, Le (France)
Course de taureaux à Nîmes (1906) (co-director)
Fée Printemps, La (1906)
... aka The Spring Fairy (USA)
Mireille (1906) (co-director)
Un soulier pour un jambon (1906)
Vie du Christ, La (1906)
... aka Naissance, la vie et la mort de Notre-Seigneur Jésus-Christ, La (France: complete title)
... aka Passion, La (France)
... aka The Birth, the Life and the Death of Christ (USA)
Fanfan la Tulipe (1907)
Madame a des envies (1908) (unconfirmed)
Marâtre, La (1908) (unconfirmed)
Questions indiscrètes (1908) (unconfirmed)
Alice Guy Blanché (01.07.1873-24.03.1968) amerikanske periode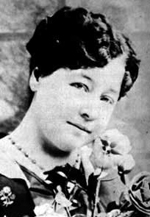 A Child's Sacrifice (1910) (unconfirmed)
The Violin Maker of Nuremberg (1911)
Rose of the Circus (1911)
The Cure (1911) (unconfirmed)
The Doll (1911)
Five O'Clock Tea (1911) (unconfirmed)
His Mother's Hymn (1911) (unconfirmed)
The Little Rangers (1911) (unconfirmed)
Road Leads Home (1911) (unconfirmed)
The Face at the Window (1912)
Making an American Citizen (1912) (uncredited)
A Fool and His Money (1912)
Canned Harmony (1912) (unconfirmed)
Phantom Paradise (1912)
The Blood Stain (1912)
Fra Diavolo (1912)
Micky's Pal (1912)
In the Year 2000 (1912)
Child of the Tenements (1912) (unconfirmed)
Falling Leaves (1912) (unconfirmed) (uncredited)
Blighted Lives (1912) (unconfirmed)
Algie, the Miner (1912) (uncredited)
God Disposes (1912) (unconfirmed)
A Terrible Lesson (1912) (unconfirmed)
Mrs. Cranston's Jewels (1912) (unconfirmed)
Mignon (1912/I)
Playing Tramps (1912)
Shadows of the Moulin Rouge (1913) (as Alice Blaché)
The Rogues of Paris (1913) (as Alice Blaché)
Matrimony's Speed Limit (1913) (uncredited)
A House Divided (1913) (uncredited)
Dick Whittington and his Cat (1913) (unconfirmed)
The Little Hunchback (1913)
The Pit and the Pendulum (1913)
A Terrible Night (1913)
The Tigress (1914) (unconfirmed)
The Lure (1914)
The Woman of Mystery (1914) (as Alice Blaché)
The Dream Woman (1914) (as Alice Blaché)
The Monster and the Girl (1914) (as Alice Blaché)
Beneath the Czar (1914) (as Alice Blaché)
My Madonna (1915) (as Alice Blaché)
The Song of the Wage Slave (1915) (as Alice Blaché)
The Vampire (1915/I) (as Alice Blaché)
The Heart of a Painted Woman (1915) (as Alice Guy-Blaché)
The Ocean Waif (1916) (uncredited)
What Will People Say? (1916)
Behind the Mask (1917) (as Alice Blaché)
When You and I Were Young (1917) (as Alice Guy Blaché)
House of Cards (1917) (as Alice Guy Blaché)
A Man and the Woman (1917) (as Alice Blaché)
The Empress (1917) (as Alice Guy Blaché)
The Adventurer (1917/II)
The Great Adventure (1918)
Tarnished Reputations (1920) (as Alice Blaché)
Vampire (1920)
Amerikanske regissører.
Lois Weber (13.06.1881-13.11.1939)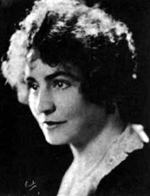 The Martyr (1911)
A Breach of Faith (1911)
Fate (1911/II)
On the Brink (1911)
The Realization (1911)
The Heiress (1911)
A Heroine of '76 (1911)
Faraway Fields (1912)
A Japanese Idyll (1912)
An Old Fashioned Girl (1912)
The Greater Christian (1912)
The Troubadour's Triumph (1912)
The Greater Love (1912/II)
Power of Thought (1912)
The Price of Peace (1912)
Eyes That See Not (1912)
The Final Pardon (1912)
The Bargain (1912)
Fine Feathers (1912)
Angels Unaware (1912)
The Wife's Deceit (1913)
The Jew's Christmas (1913)
The Mask (1913)
James Lee's Wife (1913)
The Blood Brotherhood (1913)
The Haunted Bride (1913)
Thieves and the Cross (1913)
The Clue (1913/II)
The Thumb Print (1913)
Memories (1913)
Shadows of Life (1913)
His Brand (1913)
The Light Woman (1913)
Just in Time (1913)
Civilized and Savage (1913)
The Fallen Angel (1913)
Through Strife (1913)
Suspense (1913)
How Men Propose (1913) (uncredited)
The Pretender (1913)
The King Can Do No Wrong (1913)
The Cap of Destiny (1913)
The Rosary (1913)
The Dragon's Breath (1913)
Until Death (1913)
Bobby's Baby (1913)
The Peacemaker (1913)
An Empty Box (1913)
Troubled Waters (1913)
In the Blood (1913)
Two Thieves (1913)
His Sister (1913/I)
Helping Mother (1914)
Daisies (1914)
Behind the Veil (1914)
Mary Plain (1914)
Lost by a Hair (1914)
The Pursuit of Hate (1914)
Closed Gates (1914)
The Stone in the Road (1914)
Avenged (1914)
The Triumph of Mind (1914)
The Career of Waterloo Peterson (1914)
An Episode (1914)
On Suspicion (1914)
The Man Who Slept (1914)
The Babies' Doll (1914)
In the Days of His Youth (1914)
The Spider and Her Web (1914)
A Modern Fairy Tale (1914)
The Weaker Sister (1914)
The Merchant of Venice (1914)
Woman's Burden (1914)
An Old Locket (1914)
The Coward Hater (1914)
The Leper's Coat (1914)
A Fool and His Money (1914)
The Female of the Species (1914)
The Traitor (1914)
Jewel (1915) (uncredited)
A Cigarette - That's All (1915)
Scandal (1915)
... aka Scandal Mongers (USA: reissue title)
Betty in Search of a Thrill (1915)
... aka Madcap Betty
Captain Courtesy (1915)
Sunshine Molly (1915)
Hypocrites (1915) (uncredited)
It's No Laughing Matter (1915)
The Gilded Life (1916)
The Rock of Riches (1916)
The People vs. John Doe (1916)
... aka God's Law
The Celebrated Stielow Case (1916)
Wanted: A Home (1916)
Idle Wives (1916)
Under the Spell (1916)
Saving the Family Name (1916)
Shoes (1916)
The Eye of God (1916)
Where Are My Children? (1916) (uncredited)
John Needham's Double (1916)
The Dance of Love (1916)
The Dumb Girl of Portici (1916)
There Is No Place Like Home (1916)
The Flirt (1916/I)
Hop - The Devil's Brew (1916)
Discontent (1916)
The Price of a Good Time (1917)
Hand That Rocks the Cradle (1917)
Even As You and I (1917)
The Boyhood He Forgot (1917)
The Mysterious Mrs. Musslewhite (1917)
... aka The Mysterious Mrs. M.
The Face Downstairs (1917)
Borrowed Clothes (1918)
For Husbands Only (1918)
The Doctor and the Woman (1918)
Forbidden (1919)
... aka The Forbidden Box
Home (1919)
... aka There's No Place Like Home
Mary Regan (1919)
A Midnight Romance (1919)
When a Girl Loves (1919)
To Please One Woman (1920)
Life's Mirror (1920)
Mum's the Word (1920)
What Do Men Want? (1921)
The Blot (1921)
Too Wise Wives (1921)
What's Worth While? (1921)
A Chapter in Her Life (1923)
The Marriage Clause (1926)
The Angel of Broadway (1927)
Topsy and Eva (1927/I) (uncredited)
Sensation Seekers (1927)
Marguerite Bertsch (14.12.1889-??.1967)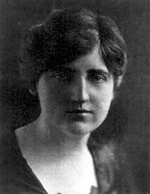 The Devil's Prize (1916)
The Law Decides (1916)
The Soul Master (1917)
The Glory of Yolanda (1917)






Lule Warrenton (22.06.1862-14.05.1932)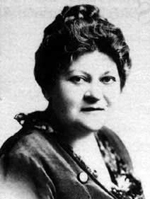 Us Kids (1916)
When Little Lindy Sang (1916)
A Bit o' Heaven (1917)
The Valley of Beautiful Things (1917)



Ruth Stonehouse (28.09.1892-12.05.1941)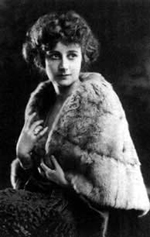 A Walloping Time (1917)
A Limb of Satan (1917)
Daredevil Dan (1917)
Puppy Love (1917)
Tacky Sue's Romance (1917)
The Stolen Actress (1917)
Mary Ann in Society (1917)
The Heart of Mary Ann (1917)
Dorothy Dares (1917)
Rosalind at Redgate (1919)



Nell Shipman (25.10.1892-23.01.1970) født i Canada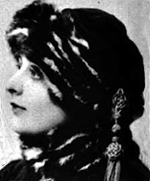 Something New (1920)
The Girl from God's Country (1921)
The Grub Stake (1923)
... aka The Golden Yukon (USA: reissue title)
Trail of the North Wind (1924)
White Waters (1926)
The Light on Lookout Mountain (1926)



Margery Wilson (31.10.1896-21.01.1986)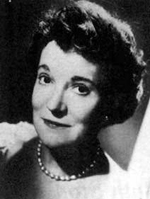 That Something (1920) (unconfirmed)
Insinuation (1922)
The Offenders (1922)







Lillian Gish (14.10.1893-27.02.1993)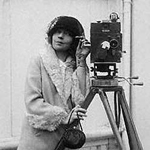 Remodeling Her Husband (1920)







Dorothy Arzner (03.01.1897-01.10.1979)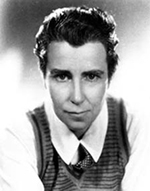 Dorothy Arzner (3 januar 1897 - 1 oktober, 1979) var en banebrytende amerikansk regissør. Her directorial career in feature films spanned from the late 1920s into the early 1940s , a time period in which there were very few—if any—other women working in the field. Hennes directorial karriere i spillefilmer spanned fra slutten av 1920-tallet til tidlig på 1940-tallet, en periode der det var svært få-om noen-andre kvinner som arbeider i feltet.
Født i San Francisco, California, Arzner vokste opp i Los Angeles, hvor hennes far eide en restaurant som besøkes av mange Hollywood-kjendiser. After finishing high school, she enrolled at the University of Southern California with hopes of becoming a doctor. Etter å fullføre videregående skole, hun har registrert seg ved University of Southern California med håp om å bli lege. During World War I , she left school to work overseas in the ambulance corps. Under første verdenskrig, hun forlot skolen for å jobbe utenlands i ambulanse korpset. By the time the war ended, she decided against returning to her medical studies and, after a visit to a movie studio , decided to pursue a career as a film director. Etter den tid krigen tok slutt, har hun besluttet seg tilbake til hennes medisinske studier, og etter et besøk på en film studio, besluttet å forfølge en karriere som regissør.
Through connections with director William C. DeMille , Dorothy got a job at Paramount Pictures . Gjennom forbindelser med regissør William C. DeMille, Dorothy fikk en jobb for Paramount Pictures. Starting out as a script writer, she was promoted to film editor within six months and quickly mastered the job. Starter ut som et skript forfatter, hun ble forfremmet til filmen redaktør innen seks måneder, og raskt mestrer jobben. Her first assignment as an editor was in 1922 for the renowned classic Blood and Sand , starring Rudolph Valentino . Hennes første oppdrag som redaktør ble i 1922 av den berømte klassiske Blood and Sand, stjernegalleri Rudolph Valentino. She was soon receiving accolades for the high quality of her work. Hun ble snart motta accolades for den høye kvaliteten av sitt arbeid.
Impressed by her technique, director James Cruze employed her as a writer and editor for several of his films. Imponert av hennes teknikk, direktør James Cruze ansatt henne som forfatter og redaktør for flere av hans filmer. Arzner had achieved a great deal of clout through this, along with her work on over fifty other films at Paramount. Arzner hadde oppnådd mye innflytelse gjennom dette, sammen med hennes arbeid på over femti andre filmer via Paramount. She eventually threatened to move to rival Columbia Studios unless given a directorial position. Hun slutt truet med å flytte til rivaliserende Columbia Studios med mindre gitt en directorial posisjon. Paramount conceded in 1927, putting her in charge of the film Fashions for Women , which became a financial success. [1] Paramount conceded i 1927, setter henne i betaling av filmen Fashions for Women, som ble en økonomisk suksess. [1]
However, Arzner faced significant hurdles to fully capitalize on her skills and talents. Men Arzner står overfor betydelige hindringer for å fullt ut utnytte sin kompetanse og talenter. In addition to being a woman, she was a lesbian who was unwilling to disguise her sexuality (she often dressed in men's suits and ties, although always in a skirt rather than pants). Joan Crawford once said, "I think all my directors fell in love with me; I know Dorothy Arzner did!" I tillegg til å være en kvinne, hun var en lesbisk som var villige til å skjule sin seksualitet (hun ofte kledd i menns dresser og slips, men alltid i et skjørt i stedet for bukser). Joan Crawford en gang sa: "Jeg tror alle mine styremedlemmer falt in love with me; Jeg vet Dorothy Arzner gjorde! " Nonetheless, her innovative ideas and approach put her in high demand as a director. Likevel, hennes nyskapende ideer og tilnærming sette henne i høy etterspørsel som regissør.
Arzner directed Paramount's first talkie in 1929, The Wild Party , which starred Clara Bow . Arzner rettet Paramount første Talkie i 1929, The Wild Party, som stjernet Clara Bow. To allow Bow to move freely on the set, Arzner had technicians rig a microphone onto a fishing rod, essentially creating the first boom mike . [2] The Wild Party was a success with critics and performed well at the box office. Hvis du vil tillate Bow å bevege seg fritt på settet, Arzner hadde teknikere riggen en mikrofon på en fiskestang, i hovedsak å opprette den første boom mike. [2] The Wild Party ble en suksess med kritikere og gode resultater på billettkontoret. The film, set in a women's college, introduced some of the apparent lesbian undertones and themes often cited in Arzner's work. Filmen, sett i en kvinner's College, introduserte noen av de åpenbare lesbisk undertones og temaer ofte sitert i Arzner arbeid. Her films of the following three years were strong examples of Hollywood before the Production Code . Hennes filmer av de følgende tre årene ble sterk eksempler på Hollywood før Production Code. These films featured aggressive, free-spirited and independent women. Disse filmene kjennetegnet aggressive, fritt inspirert og uavhengige kvinner.
She left Paramount in 1932 to begin work as an independent director for several of the studios. Hun forlot Paramount i 1932 for å begynne å fungere som en uavhengig regissør for flere av studioene. The projects she helmed during this period are her best known, with the films launching the careers of many actresses, most notably Katharine Hepburn , Rosalind Russell , and Lucille Ball . Prosjektene hun helmed i denne perioden er hun best kjent med filmene starter karrieren til mange actresses, spesielt Katharine Hepburn, Rosalind Russell, og Lucille Ball. In 1936, Arzner became the first woman to join the newly formed Directors Guild of America . [3] I 1936, Arzner ble den første kvinne til å delta på den nylig dannede Directors Guild of America. [3]
For unclear reasons, Arzner stopped directing feature-length films in 1943. Av uklare grunner, Arzner stoppet regi funksjonen langfilmer i 1943. She continued to work in the following years, directing television commercials and Army training films. Hun fortsatte å arbeide i de følgende år, styre TV-reklamer og hæren opplæring filmer. She also produced plays and, in the 1960s and '70s, worked as a professor at the UCLA film school, teaching screenwriting and directing until her death in 1979. Hun også produsert spiller, og i 1960 og'70s, jobbet som professor ved UCLA film skole, undervisning screenwriting og regi før hennes død i 1979.
Dorothy Arzner, who never married or had children, died at the age of 82 in La Quinta , California . Dorothy Arzner, som aldri gift eller fikk barn, døde i år 82 i La Quinta, California. She was linked romantically with a number of actresses, but lived much of her life with choreographer Marion Morgan. Hun var knyttet Romantically med en rekke actresses, men bodde mye av sitt liv med koreograf Marion Morgan. For her achievements in the field of motion pictures, Arzner was awarded a star on the Hollywood Walk of Fame at 1500 Vine Street . [4] For hennes prestasjoner innen Filmindustrien, Arzner ble tildelt en stjerne på Hollywood Walk of Fame i 1500 Vine Street.

Blood and Sand (1922) (additional footage) (uncredited)
Fashions for Women (1927)
Ten Modern Commandments (1927)
Get Your Man (1927)
Allerede i 1928 regisserte hun sin første talefilm "Manhattan Cocktail" (1928)





Mary Pickford (08.04.1892-29.05.1979)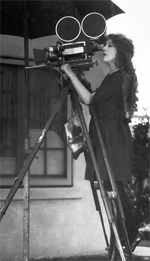 Dorothy Vernon of Haddon Hall (1924) (uncredited)










.